Tea Information:
Tea:
MatéVana and Rooibos Chai or Mate Chai Tea Blend
Type:
Rooibos and Mate Tea
Packaging:
Loose Leaf
Company:
Teavana
Purchase:
Click image: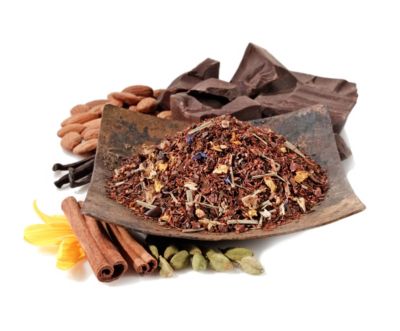 Description:
The coffee lover's favorite. This a rich, full-flavored blend of MateVana herbal tea and Rooibos Chai rooibos tea with a chocolately, spicy taste. And it has the caffeine kick you need in the mornings! Full of vitamins and minerals, it is a smart, delicious choice.
MatéVana
A deliciously smooth herbal tea that is perfect for coffee lovers. It does contain caffeine, but many people have a different reaction to this stimulant since it is blended with the other natural xanthines found in Mate (theophylline and theobromine). Together they create energy without jitteriness or addictive tendencies. This tea is also a wonderful diet tea, since it curbs hunger. MateVana does contain nuts.
Rooibos Chai
This delicious chai is made from Aspalathus linoaris, a South African plant that gives it a rich, red color. The red Rooibos is naturally caffeine-free and filled with vitamin C, minerals, and proteins. And combined with cinnamon, vanilla, ginger, and lemongrass, it makes a wonderful herbal tea.
Ingredients:
Roasted Mate leaves, cocoa kernels, rooibos tea, chocolate chips (sugar, cocoa mass, cocoa powder), flavoring, white cocoa butter splits (sugar, cocoa butter, dextrose), almonds, cactus blossoms, sunflower petals and cornflower petals.
This tea contains nuts.
and
Red Rooibos with ginger, cinnamon, vanilla, lemongrass and cardamom.
Steep Information:
Amount:
4 heaping teaspoons
Water:
750 milliters filtered 212°
Tool:
Breville One-Touch Tea Maker BTM800XL (Herbal, Strong, Auto start)
Steep Time:
a little over 5 minutes
Served:
Hot
Tasting Notes:
Dry Leaf Smell:
Chocolate, nuts, spices, wood
Steeped Tea Smell:
Chocolate, nuts, spice
Flavor:
spice, hints of chocolate
Body:
Medium
Aftertaste:
cinnamon
Liquor:
translucent orange-brown
Gift from SoccerMom!
This is a delicious combination, if you enjoy Teavana's Mates I highly suggest this.
Post-Steep Additives:
German rock sugar, sweeter and more / stronger flavors overall
Rating:
3/4 leaves
Leaf system:
1=Bleh! not again if it were free
2=Acceptable, if it were free or there were limited other tea options
3=I might purchase this tea from time to time, or select it while out
4=A staple in our cupboard from now on, I will purchase and keep purchasing