Tea Information:
Tea:
Tahitian Limeade
Type:
Rooibos Tea
Packaging:
Loose Leaf
Company:
Teavana
Purchase: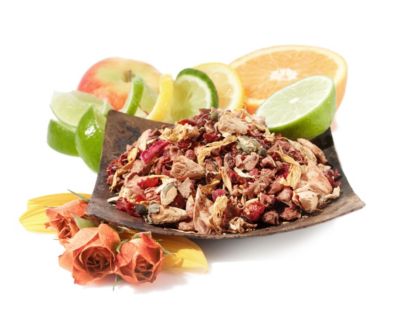 Description:
Sit back and let your taste buds transport you to glistening white beaches with invigorating ocean breezes. Refreshing citrus plays with sweet apple, while relaxing floral tones lift away your troubles. This tea is caffeine-free.
Ingredients:
Green Rooibos, lime pieces, orange slices, apples, lemon peel, rosehips, yellow rosebuds, marigold petals, and sunflower petals.
Steep Information:
Amount:
~ 8 tsp
Water:
1000ml 205°F filtered water
Tool:
Breville One-Touch Tea Maker BTM800XL (custom, custom)
Steep Time:
6 minutes
Served:
Hot
Tasting Notes:
Dry Leaf Smell:
Limes, very strongly of limes
Steeped Tea Smell:
limeade, sweet and sour and citrus
Flavor:
MilitiaJim: pine, lime
AmazonV: sour lime citrus, floral
Body:
Full
Aftertaste:
fuzzy apple orange lime
Liquor:
translucent orange-red
This was a gift from
SoccerMom
.
Post-Steep Additives:
German rock sugar, didn't help much
Having it hot tasted like a potentially god drink, but a little off. It was floral, I don't want flowers in my limeade.
Having it hot steeped then iced in the fridge was odd, it tasted warm, the liquid was cold but it tasted warm...
Rating:
2/4 leaves
Leaf system:
1=Bleh! not again if it were free
2=Acceptable, if it were free or there were limited other tea options
3=I might purchase this tea from time to time, or select it while out
4=A staple in our cupboard from now on, I will purchase and keep purchasing